At GAED, We Support Future Leaders, One Student At A Time.
The Guinean Alliance for Education and Development (GAED) is a tax exempt organization under section 501(c) (3) of the Internal Revenue Code incorporated in Washington, District of Columbia. It is organized exclusively for charitable and educational purposes.
The Alliance believes by investing in human capital, a nation ensures future quality leadership, a skilled workforce, and sustainable economic development. It is our belief that children, regardless of their sex, religion, race, ethnicity or socio-economic background be educated, empowering him/her with better opportunities and choices in life.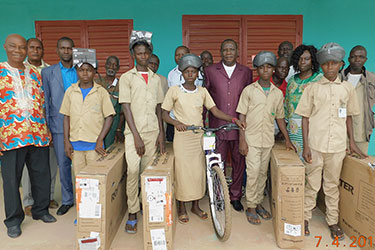 Our Programs
Scholarships
Bicycle Initiative
Learning Resource Centers
Road to College Mentorship Program
School Supplies and Digital Learning Devices
Transforming lives together
At GAED, We need and welcome your support! Whether you are individual only able to donate a small amount or a corporation willing to sponsor our organization, all donations are vital to the work that we do. We seek sponsorship from schools, non-governmental organizations, government agencies, private and public corporations, as well as individuals.
lf you and/or your organization are interested in sponsoring our organization or supporting any of our programs and need additional information from our organization, we welcome your interest and would be happy to provide you with additional information. Please visit our "contact us" page and provide your contact information and our administration will be happy to speak with you personally to discuss sponsorship possibilities.
With your help we can achieve so much more
Our vision is simple: to promote quality education and provide opportunities and access to the underprivileged.
Together with your involvement, we can make a huge difference in the lives of young Guinean Students in their journey of acquiring a quality education.
We welcome individuals, public or private organizations to join our Organization as public advocates for education and development within Guinea and around the world. To bring attention and interest to our mission and the overall need for support of access to quality education to students around the world as they strive to seek academic excellence and to become better world citizens.
We are proud to be involved. We hope you will join us too.
Newsletters
Give a gift that will change lives. 100% funds charity projects.